Heart Attack Page
Bob White suffered a heart attack in the early morning hours of Wednesday February 10, 1999. Because of the outstanding efforts of the First Responder and Ambulance Crew, Bob is still alive. He is currently recovering at home after a 6 day hospital stay.
On Behalf of the Hard Evidence Team, we thank all who assisted and our best wishes go out to our friend and his family.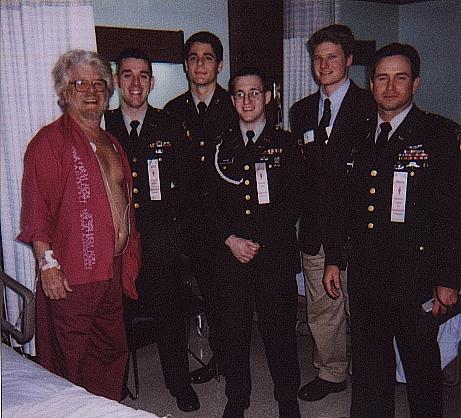 Photo of Bob in Hospital
"Thanks to all for your concern and your prayers. I expect a full recovery from this heart condition, regardless of the doctor's diagnosis. Again I wish to express my sincere thanks."
-Bob White
FAIR USE NOTICE: This site contains copyrighted material the use of which has not always been specifically authorized by the copyright owner. We are making such material available in our efforts to advance understanding of environmental, political, human rights, economic, democracy, scientific, and social justice issues, and for the general purpose of criticism, comment, news reporting, teaching, research and / or educational purposes only. We believe this constitutes a 'fair use' of any such copyrighted material as provided for in section 107 of the US Copyright Law. In accordance with Title 17 U.S.C. Section 107, the material on this site is distributed without profit to those who have expressed a prior interest in receiving the included information for research and educational purposes. If you wish to use this material for purposes other than provided by law. You must obtain permission from the copyright owner. For more information go to:
http://fairuse.stanford.edu/Copyright_and_Fair_Use_Overview/chapter9/index.html
Copyright © 2019 HardEvidence.info All Rights Reserved.