Ongoing Analysis
This page will keep you up to date on our 3 year, in-depth, scientific analysis.
In the early spring of 1999, Hard Evidence was contacted by a major lab in California, interested in testing the Unknown Object beyond the limited scope pursued by Los Alamos, New Mexico Tech, and others.
We are very happy to announce that this analysis is ongoing. Upon it's completion, we will share not only the data, but the name of this world class facility. Updates on additional analysis from Canada will also be posted here.
Analysis Update 12/15/99
Scanning Electron Microscope Photos added.
| | | | |
| --- | --- | --- | --- |
| Sample at Mag 11.00 x | Sample at Mag 50.00 x | Sample at Mag 150.00 x | Sample at Mag 240.00 x |
| Sample at Mag 400.00 x | Sample at Mag 500.00 x | Sample at Mag 900.00 x | Sample at Mag 5000.00 x |
Analysis Update 12/02/99
California analysis ongoing - elemental composition from this analysis so far includes:
Aluminum, Silicon, Chromium, Iron, Magnesium, Manganese, Nickel, Vanadium, Zinc, Barium, Titanium, Cobalt, Calcium, Strontium, Zirconium, Gadolinium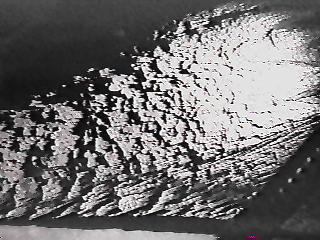 Stills from Los Alamos Analysis Video Added Below
Los Alamos National Labs 9-24-96
Release of Canadian Analysis doubtful after $1,000,000 reward was withdrawn by the Flying Saucer Restaurant. We believe after consulting with our sources, that an analysis will not be forthcoming.
Analysis Update 7/20/99
Waiting on release of Canadian analysis.
California analysis ongoing.


Analysis Update 5/22/99
Element Strontium, overlooked by Los Alamos and New Mexico Tech, found! Read a description of this strange element from a Los Alamos Periodic Table.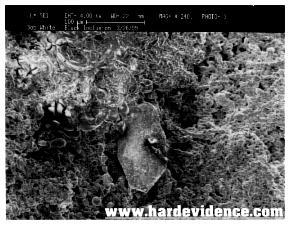 SEM photo of Black Inclusion Taken 3/26/99
What did Los Alamos have to say about these inclusions?
Below is an excerpt from the Los Alamos Report

Until this time, SEM photographs were not available to us for exhibition. The National Lab at Los Alamos, and the National Institute for Discovery Science supplied Bob with only photo-copied versions of their reports. SEM images were not discernible in any of the poor quality documents given to Bob. We are appreciative of the proper scientific inquiry, and protocols exhibited by the major lab currently attempting to identify the Unknown Object.
FAIR USE NOTICE: This site contains copyrighted material the use of which has not always been specifically authorized by the copyright owner. We are making such material available in our efforts to advance understanding of environmental, political, human rights, economic, democracy, scientific, and social justice issues, and for the general purpose of criticism, comment, news reporting, teaching, research and / or educational purposes only. We believe this constitutes a 'fair use' of any such copyrighted material as provided for in section 107 of the US Copyright Law. In accordance with Title 17 U.S.C. Section 107, the material on this site is distributed without profit to those who have expressed a prior interest in receiving the included information for research and educational purposes. If you wish to use this material for purposes other than provided by law. You must obtain permission from the copyright owner. For more information go to:
http://fairuse.stanford.edu/Copyright_and_Fair_Use_Overview/chapter9/index.html
Copyright © 2022 HardEvidence.info All Rights Reserved.