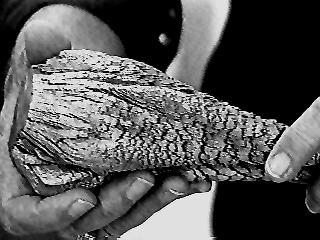 Video Still from the Los Alamos Analysis 9/24/96
"I've seen the thing. Even held it in my hand. And I can testify that it is, uh, very strange."
Columnist Mike O'Brien of the Springfield News-Leader
UFO Hard Evidence Now Available
For only $12.95 U.S.
(Shipping and Handling $2.00)
You Will Receive:
1 - 8" x 10" Research Quality photo of the UFO object, optimized for analysis from an 8" x 10" negative
1 - 8" x 10" Photo of the UFO Object photographed from a different angle
1 - 8" x 10" Photo of Bob White with the UFO Object
Conflicting laboratory conclusions from New Mexico Tech and Los Alamos National Labs
Bob White's sworn affidavit backed up by conclusive polygraph results, and copies of other original documents related to Bob White and the Unknown Object
UFO Hard Evidence T-Shirt Help us spread the word with this cool shirt showing Bob and the Unknown Object (Front) and hardevidence.com on the back!
*
Only a few photographs were taken of the object in it's original condition. These photos show the object
BEFORE
samples were taken for testing
*
We Accept
Or Mail Check, Money Order or Cashiers Check to:
Hard Evidence
PMB 385
18942-F State Highway 13
Reeds Spring, MO 65737
Please allow 2-3 weeks for delivery
FAIR USE NOTICE: This site contains copyrighted material the use of which has not always been specifically authorized by the copyright owner. We are making such material available in our efforts to advance understanding of environmental, political, human rights, economic, democracy, scientific, and social justice issues, and for the general purpose of criticism, comment, news reporting, teaching, research and / or educational purposes only. We believe this constitutes a 'fair use' of any such copyrighted material as provided for in section 107 of the US Copyright Law. In accordance with Title 17 U.S.C. Section 107, the material on this site is distributed without profit to those who have expressed a prior interest in receiving the included information for research and educational purposes. If you wish to use this material for purposes other than provided by law. You must obtain permission from the copyright owner. For more information go to:
http://fairuse.stanford.edu/Copyright_and_Fair_Use_Overview/chapter9/index.html
Copyright © 2022 HardEvidence.info All Rights Reserved.