Where have all the pieces gone?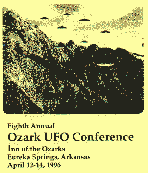 Attempts were made by Bob White to release this information through the UFO community. Throughout the first year of bringing the unknown object forward, several UFO investigators and organizations were in contact with Mr. White.
At the 1996 Ozark UFO Conference, a popular "science-journalist" was given samples from the outside of the unknown object. At this time they are said to have "disappeared".
A Mutual UFO Network (MUFON) investigator followed up by visiting Mr. White's residence. A sufficient quantity of the feathered outside material was given to him. This investigators work is in question after an appearance before a number of visitors to the 1998 Ozark UFO Conference. This man told various researchers and onlookers that in his official report on the unknown object, he concludes the following:
The object mirrors it's surroundings.
The small end turns white and the tip projects laser beams that have been accidently photographed by the man's camera.
The unknown object was originally in the shape of a ball, was shot down by another UFO and somehow "straightened itself out".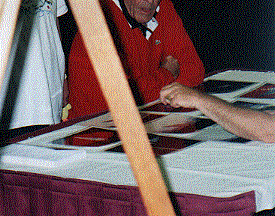 Witnesses to and photographs of this man's display, cast serious doubt on the validity of any research concerning the unknown object by this individual.
Results from any analysis, as promised by this MUFON investigator, were never released or shared with Bob. The pieces were never returned.
Bob contacted another MUFON investigator who is an expert UFOlogist. He also pledged to help get an analysis in 1996. After promises were made, numerous attempts to contact this expert were stonewalled.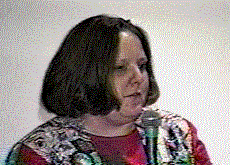 Rumors ran rampant on the Internet and various computer message boards in the days following Bob's brief presence at the 1996 Ozark UFO Conference. In a post on the MUFONet BAMA Public Echo, Rebecca Schatte tells Glen Joyner "I did manage to get some pieces of that chunk and when the dust settles I will see about getting someone to look at them." Perhaps Mrs. Schatte found the samples that disappeared from the "science-journalist", since no pieces were willingly given to her by Mr. White. At this time no analysis has been posted and the pieces were never mentioned or returned.
Rebecca Schatte at the
1996 Ozark UFO Conference
Read Rebecca Schatte's Original Post
Bob White believes he has the right to see the results of any analysis performed on the unknown object. Why so many helpful promises unfulfilled?
FAIR USE NOTICE: This site contains copyrighted material the use of which has not always been specifically authorized by the copyright owner. We are making such material available in our efforts to advance understanding of environmental, political, human rights, economic, democracy, scientific, and social justice issues, and for the general purpose of criticism, comment, news reporting, teaching, research and / or educational purposes only. We believe this constitutes a 'fair use' of any such copyrighted material as provided for in section 107 of the US Copyright Law. In accordance with Title 17 U.S.C. Section 107, the material on this site is distributed without profit to those who have expressed a prior interest in receiving the included information for research and educational purposes. If you wish to use this material for purposes other than provided by law. You must obtain permission from the copyright owner. For more information go to:
http://fairuse.stanford.edu/Copyright_and_Fair_Use_Overview/chapter9/index.html
Copyright © 2022 HardEvidence.info All Rights Reserved.